Marine refrigerators and freezers designed and manufactured to meet the needs of our clients.
Made in Italy Production and Quality
Refrigerazione custom
Frigoriferi
Congelatori
Frigoriferi / Congelatori Combinati
Cantinette Vino
Celle Cambusa Combinate Calpestabili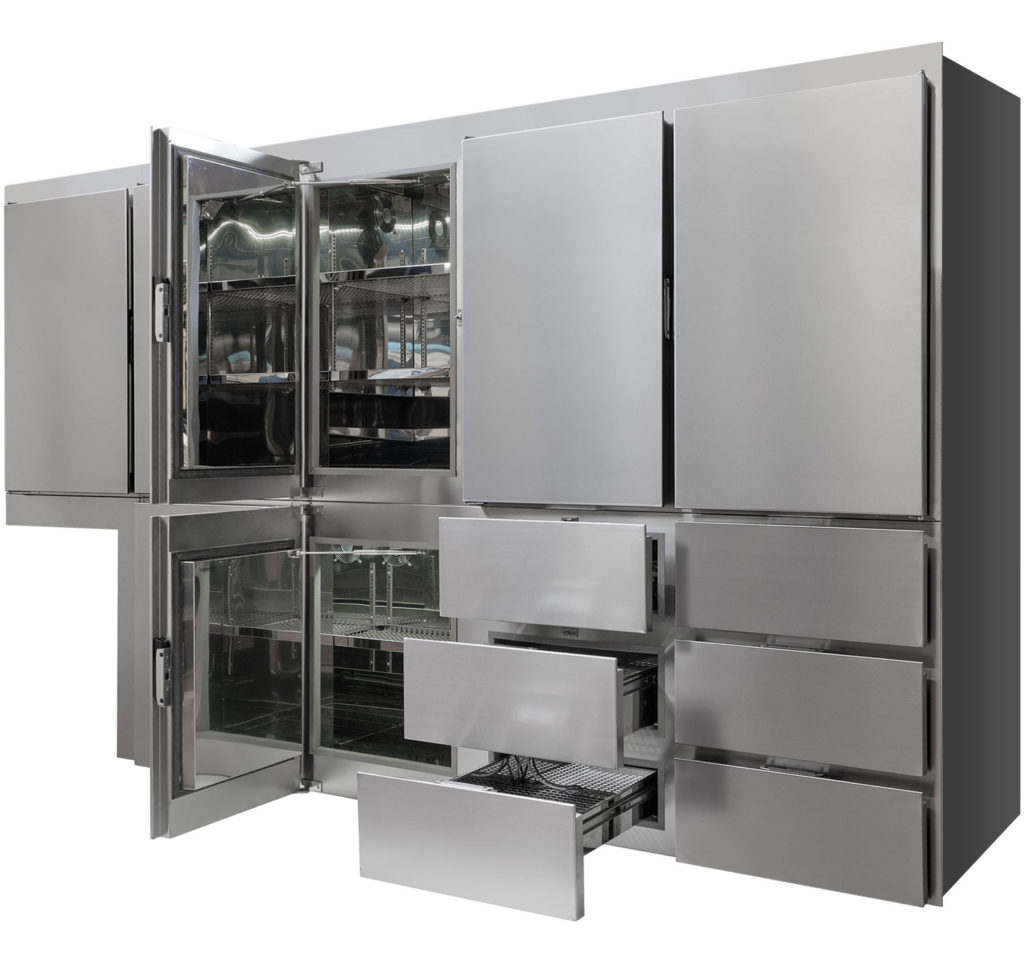 The keyword is "Custom-made"
In a sector where personalisation is one of the bedrocks for creating products of extreme quality and elegance, Frigomar is ready to take care of the entire design and production process:
definition of specifications
identification of design solutions
customised production and installation
so as to ensure the one-stop-shop supply of refrigeration systems for yachts from 10 to 100 metres.
Custom-made Refrigerator Line
The "Flush Doors" line has a modern design, with hidden handles and complete panel coverage which can be integrated with any minimalist, refined style.
Our Custom-made "Flush" Refrigerators can include a wide variety of fridge and freezer compartments with independent temperature settings to suit the individual needs of our client.
Custom-made Refrigerator Line
The "Hinged Doors" line has a classic, functional design with external handles.
Our independent refrigerators come equipped with either a dedicated, integrated refrigeration circuit or one that is separate.
Centralised or Independent

A refrigeration system to suit any requirement
Our centralised refrigerators are part of the specially designed refrigeration system for managing and supplying all the on-board refrigeration units.
Centralised systems ensure high performance, increased efficiency and advanced energy consumption management.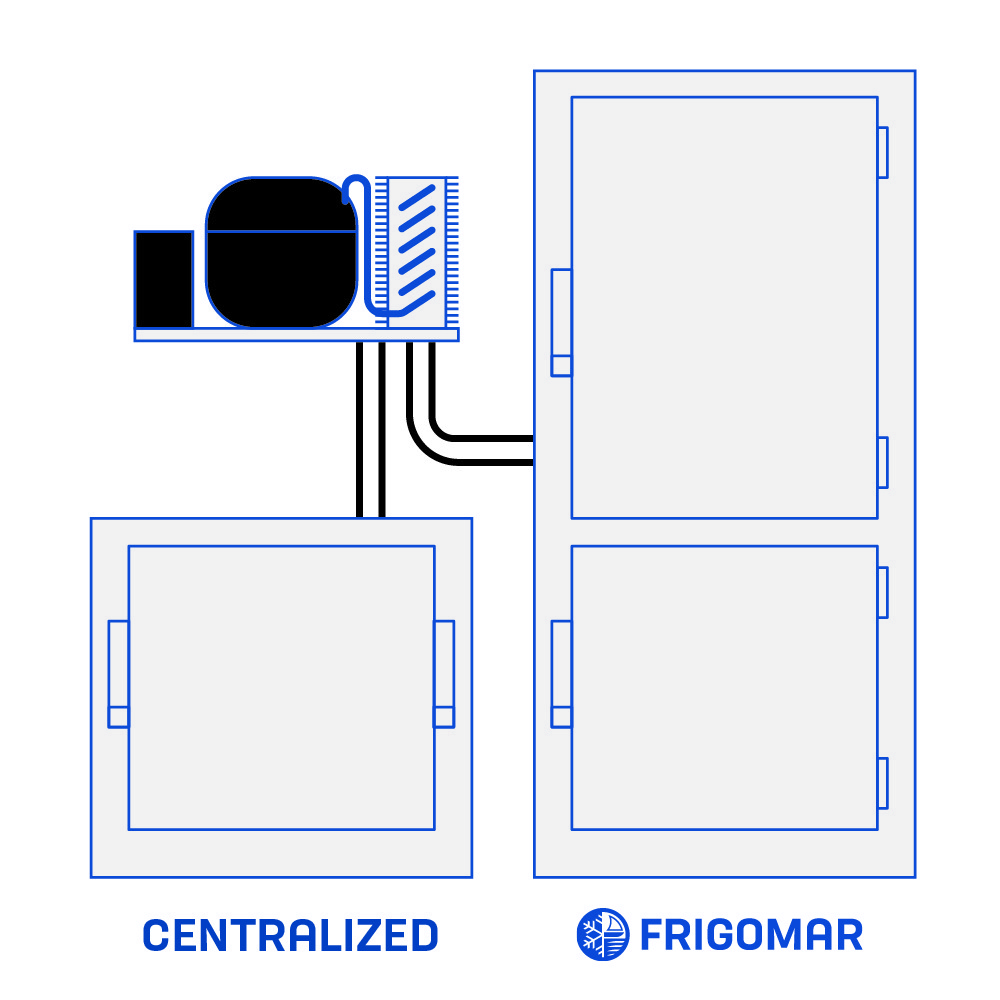 Our independent refrigerators are equipped with everything they need to operate no matter where they are located.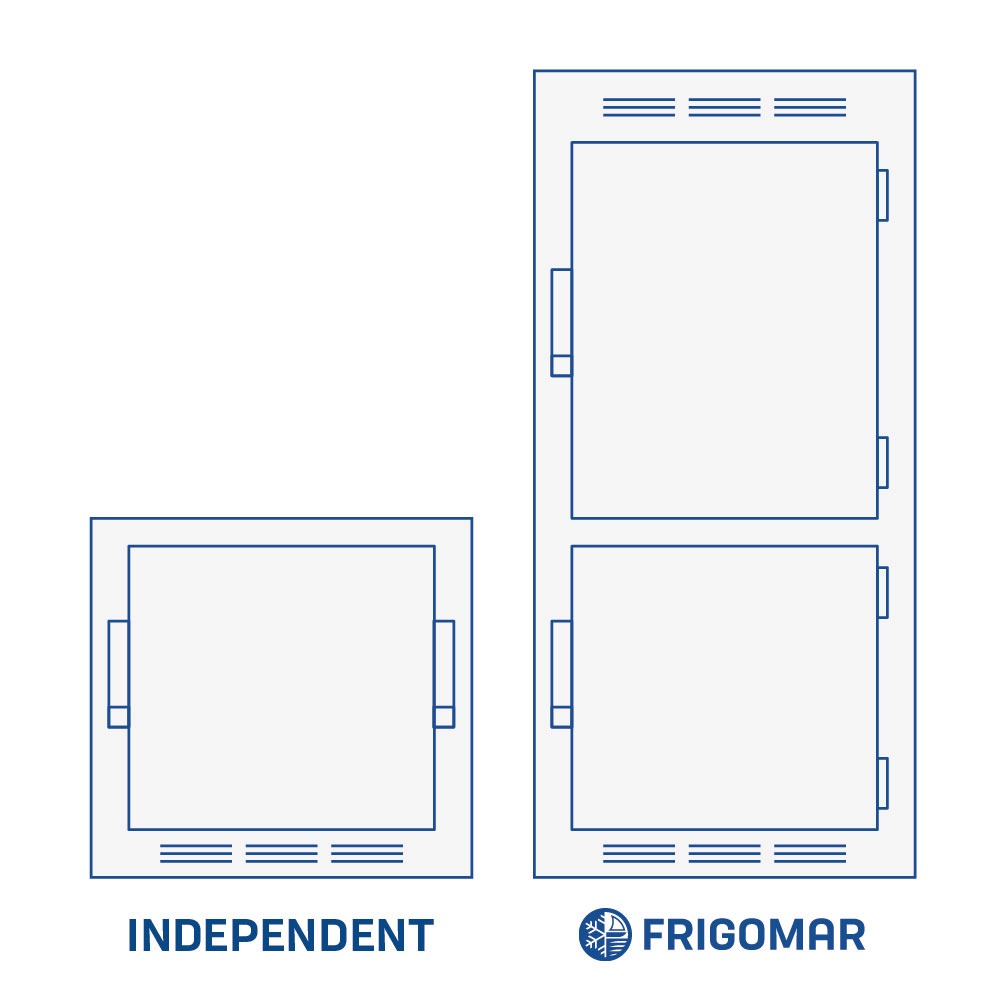 Details that make all the difference
Step by Step with Frigomar

To create your perfect refrigerator
The first step is to fully understand and absorb the client's requirements, it's from these that the various preliminary designs will be drawn up.
If the client doesn't have a detailed idea in mind, Frigomar will apply its vast sector experience, over fifty years of it, to come up with something special.
During a second meeting Frigomar will present the various design solutions that have been devised by Frigomar in collaboration with the shipyard or the client.
It's here that we'll hone in on the perfect configuration and apply any necessary last-minute fine tuning to arrive at the detailed plan.
In the next phase all the various components and systems are produced.
The high quality production process is entirely undertaken at our facility in Italy, where the system will also be assembled.
Once all factory tests have been completed, the refrigeration system is then disassembled before being installed on board by us.
The experience of our team of installers ensures installation is both quick and meticulous, with every little detail taken care of.
Before delivering the system and before it is used in earnest, Frigomar concludes the process by starting up the system, carrying out a series of checks and operational tests to establish the correct functioning of the system.
Our after-sales assistance team will care for the refrigeration system throughout its entire life cycle.
The experience and professionalism of Frigomar's technicians will ensure that all necessary maintenance work is carried out quickly and effectively, thus maintaining the system's performance and extending its lifespan.