In 1973, Luigi and Virginio Sanguineti started producing bespoke refrigerators for the nautical sector.
Over the subsequent fifty years, FRIGOMAR has grown, step by step, to become a leader in the marine refrigeration systems sector.
Fifty years: a major milestone
Reaching this anniversary is testament to the commitment and achievements of those who've tirelessly pursued our ambitious yet attainable objectives, working for an organization that's always had responsibility and integrity at the heart of its values.
Fifty years that represent the history and story of our company's evolution.
From a small craftsmen's workshop to a sector leading enterprise, the strides made are innumerable. We've grown and overcome challenges by looking to offer that little something extra to our customers every single day.
We've developed, we've changed; just over 20 years ago the company was passed on to the next generation, with Andrea Piombo and Daniela Sanguineti taking the helm.
We've always worked as a team, and the fact we're still here means we must have done something right.
Fifty years means responsibility and new challenges
Responsibility for everything that's ever been designed and built by FRIGOMAR and for all the people who are the company's soul and driving force.
At the beginning of this millennium, we face new challenges.
Operating in an increasingly international market, ensuring our production meets all expectations in terms of timeliness and efficiency, and providing excellent technical support.
Developing products that anticipate market demands, paying careful attention to ensuring our products are meeting expectations in terms of sustainability and energy efficiency.
For us the answer is, and always has been, simple – it's all about the integrity of our company and products:
improve the quality, by seeking increasingly durable and high-performance materials
increase the efficiency and longevity of our products
implement new technologies that improve efficiency and convenience
and, naturally, guarantee excellent technical support, be available in a timely manner to ensure our customers know they can always rely on us as well as on our products.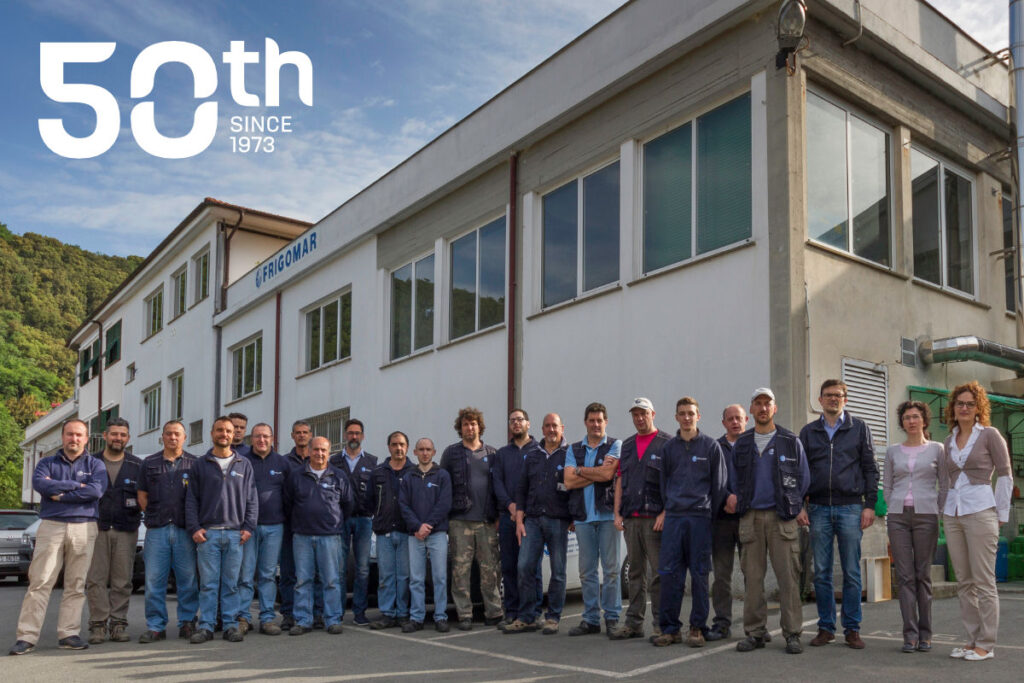 Fifty years are the people we've met and worked with throughout our history.
To each and every one of you, we thank you from the bottom of our hearts.
Thank you for trusting FRIGOMAR.