In occasione del Premio Innovazione Luigi Gianneschi 2018, l'Inverter BLDC Technology di Frigomar si è classificato tra i finalisti per la "migliore idea innovativa 2015-2018".
On the occasion of Luigi Gianneschi's 2018 Innovation Award, Frigomar Inverter BLDC Technology ranked among the finalists for the "best innovative idea 2015-2018".
The Award was established by Navigo (center for innovation and development of yachting) together with the Tuscan entrepreneur's family.
The award ceremony took place on Friday the 14th of December in Viareggio, during an evening of networking between the companies of the NAVIGO network. The prize was attended by the companies of NAVIGO, of the Technological District for the Nautical and of the Tuscan harbors, of NAVIGO Sardinia and of NAVIGO Malta divisions.
Frigomar confirms itself as one of the world's leading companies in production of refrigerating systems, air conditioning and ice makers for yachting. Thanks to the continuous technological development of its products, Frigomar has established itself with the Inverter BLDC Technology (first in the marine sector) that's able to guarantee an high energy efficiency standard of air conditioning systems onboard, eliminating current peaks and consequently generators downscaling.
The first prize, delivered to Daureka for the Fitlock® fastening system, is a reproduction of a Gigetta's electric pump detail, one of the "masterpieces" produced over the years by Gianneschi Pumps and Blowers.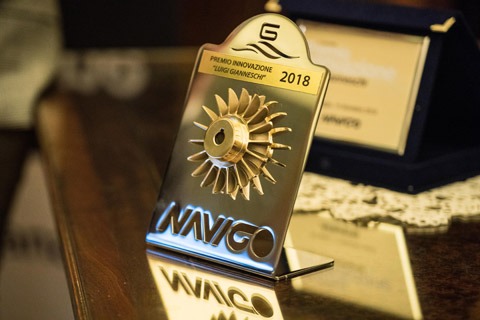 "We are particularly pleased to have established this award – Katia Balducci, president of NAVIGO, says – which, however symbolic, wants to underline the work of small, medium and large companies operating in the nautical sector with particular attention to products innovation and made in Italy know-how. Every year we will continue to reward companies that bring forward new ideas, creativity, reliability and presence on the international market ".