When you set sail and head off on your long-awaited holiday, the last thing you need is to experience breakdowns to any of the equipment that enables the boat to sail or which makes life on board comfortable and relaxing. With this in mind, the air conditioning and refrigeration systems are vital, and they always need to be able to fulfill their important role.
But how do you ensure that everything always works as it should and, above all, if something goes wrong, what should you do?
Frigomar, during its almost 50 years in the sector, has always strived to ensure that its products and services provide the very highest levels of efficiency. Ecco come Frigomar ha ottimizzato un utilizzo continuo e efficace dei propri sistemi di climatizzazione e refrigerazione.
1. Build quality
It goes without saying that the equipment must be designed and built to work in all conditions and for as long as possible. The quality of Made in Italy design and construction enables the realization of efficient, robust systems. Furthermore, Frigomar has always been a beacon of innovation, the first company in the nautical sector to offer state-of-the-art solutions such as Inverter technology(note the lack of mechanical stress present in the variable frequency technology), and to use innovative materials that improve the performance and durability of the most vulnerable components.
2. Design and installation
Correct design and installation is essential for ensuring the systems function properly and for long periods without failure or stoppages. Correctly sizing, positioning and adapting the machines to the boat's interior is of primary importance to ensure that everything works as it should. To this end, Frigomar always works closely with the boatyard's technical department so as to adopt and implement, for every possible situation, all the measures necessary to satisfy the client's requirements and guarantee the system's correct operation.
3. Scheduled maintenance
It often seems unnecessary, almost a nuisance, but carrying out regular and appropriate system maintenance procedures guarantees the longevity of all components. Keeping Frigomar systems maintained is neither complicated nor expensive, and will allow you to set sail with the peace of mind of someone who's done everything necessary to ensure their correct operation.
4. Minimum level of operation
However, it's normal for breakdowns to occur from time to time. Here Frigomar looks to plan ahead, designing its systems so that little is left to chance. Wherever possible, solutions are devised to guarantee a minimum necessary level of operation, which simply means ensuring the basic functioning of the equipment. For example, in the case of air conditioning control panels, with the flip of a switch it's possible to bypass the touch screen and the electronic PLC that manages all the functionality. So, if the touch screen stops working properly for any reason (i.e. due to external power fluctuations or a collision), it's simply necessary to remove 4 screws inside the control panel and the operations can be controlled simply, immediately and safely.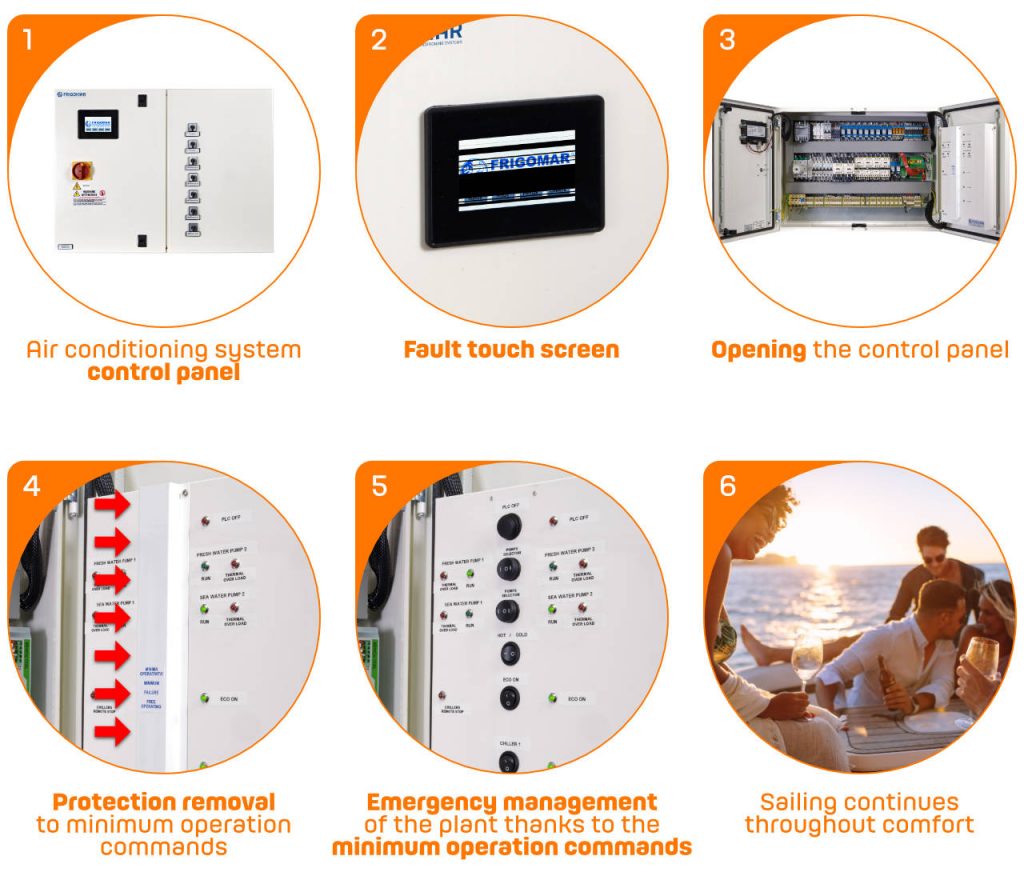 5. An extensive service network
Last but not least, Frigomar is never far from its clients. Over its many years in the sector it has developed an extensive service network throughout the world, with a presence in all nautical "nerve centres". If something needs fixing or if you need to carry out some standard maintenance, even when sailing foreign seas, it's always easy to locate a Frigomar service centre on your route. As of today, Frigomar has over 110 service centres in more than 40 countries around the world.
So, for cool and happy sailing, you can rely on Frigomar.