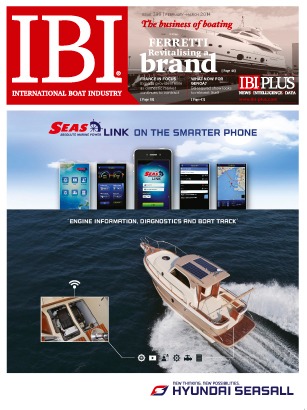 IBI Magazine, the prestigious international magazine for the nautical business, starts the 2014 publications witha contribution by Eng. Bernardo Cerrai, Frigomar technical manager.
IBI Magazine, International Boat Industry, has been dealing for over 45 years with theanalysis of the international markets, both the established and the emerging ones, for components and accessories for the boating sector, while highlighting their commercial development. At present, IBI Magazine is the most authoritative magazine in its sector.
IBI Magazine proceeds by considering the individual countries, describing their market trends and presenting what is new as concerns innovation, research and products.
Issue 398 for February-March 2014 focuses on the situation of the Italian boating market, to which the magazine devotes its "Country Report" by illustrating how, in view of an internal market which remained at a stalemate for a long time, the way out for our country has been and still is represented by the export of "made in Italy" products in more receptive markets.
This is also the policy of Frigomar, which is mentioned by IBI Magazine as an example of an Italian company which invested in research and development of innovative and efficient products.
The inverter technology Chiller Brushless DC, recently nominated for the DAME Award in Amsterdam, as Mr. Cerrai explains on the IBI article, is currently the Frigomar flagship product and has the right potential to contribute to the revival of sales in Italy and, especially, in other markets.